ABOUT
ABOUT FITTING STUDIO TOKYO
Trial club hitting. Trial shoe fitting.
A specialist will see to your every needs.
Yonex Fitting Studio Tokyo opened as a specialty store for golf and shoe fitting. In light of the importance of 「Fitting」 in sports equipment, Yonex aims to deliver to customers a new valuable experience through the concept of 「Fitting」with golf and shoe specialists at this store location.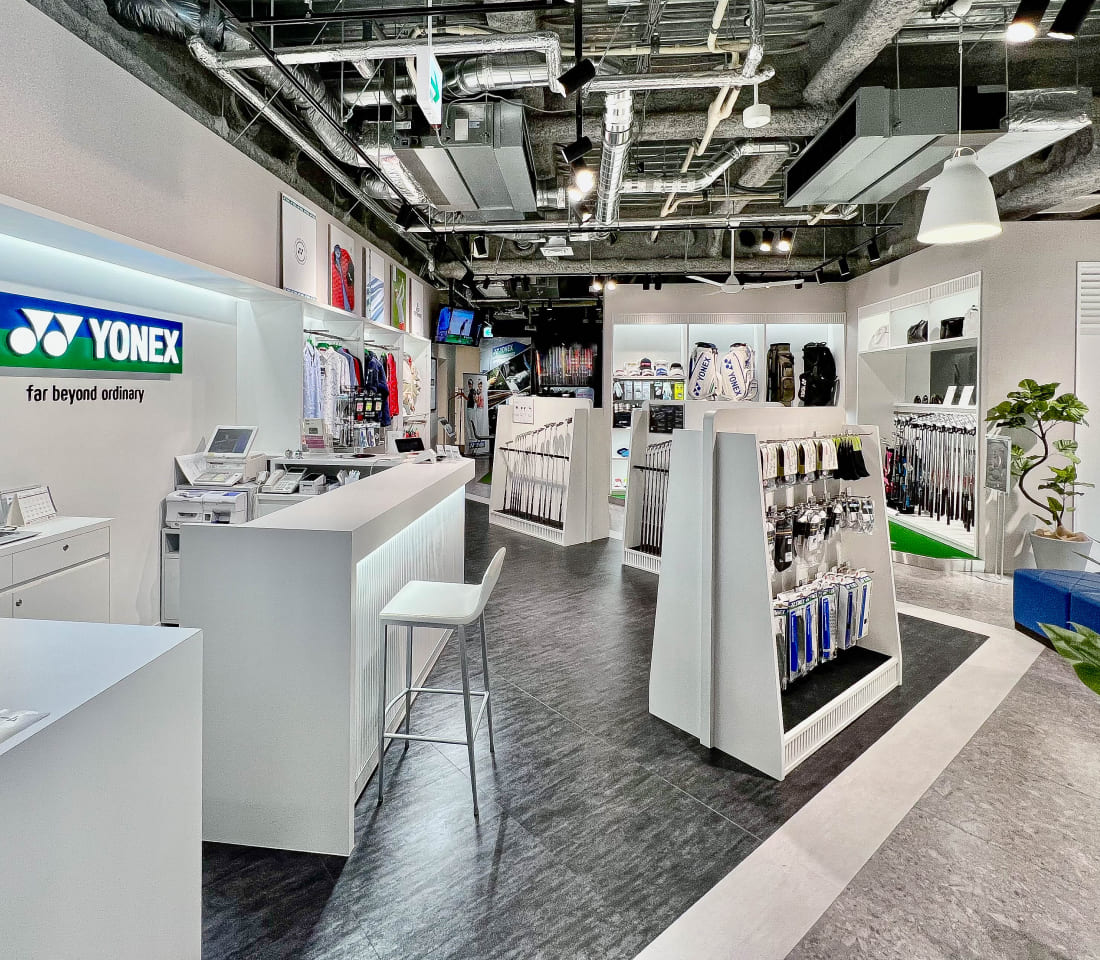 GOLF
Total distance is lacking… flight direction's unstable… Everyone has different dilemmas in golf. Practice is important, but you can also solve your dilemmas with finding the optimal specs through club fitting.

Golf club fitting involves utilizing the latest in trajectory tracking/measurement devices (Trackman / GCQuad), which are used worldwide by pros for analysis. We have a wide variety of trial clubs and shafts that are all developed inhouse by Yonex. We'll provide professional support to find the best clubs for our customers.
More Info
SHOES
Even though your shoes should be the right size, do you ever have issues such as quickened fatigue or pain in your feet? Shoes that don't fit properly can strain your body and lead to unexpected injuries. In order to walk freely and happily, shoes that fit are a decision of the utmost importance.

For shoe fitting, an advanced shoe fitter uses 3D foot measurement machines and a sole pressure measurement to measure foot data, which they'll use to provide ample advice for your shoe consultation. We also accept custom orders for our「Order-Made Insole」、 「Custom Order Men's Business Shoes MB-ROYAL JP」. Please feel free to consult with us for any of your shoe or foot concerns.
More Info
RESERVE
FITTING RESERVATIONS
・The Golf club fitting service is explained in Japanese, and therefore only applicable to those who are able to converse in Japanese.
・Foot measurements are available at any time at the Yonex Tokyo Showroom.
※No reservation required
・The order-made insole service and the custom order Men's shoes service are explained in Japanese, and therefore only applicable to those who are able to converse in Japanese.
・For any questions regarding the Golf club fitting Service, please contact the Yonex Tokyo Showroom.
LOCATION
LOCATION
Hulic G10 Building 3rd Floor
1-4-5 Shimbashi, Minato-ku, Tokyo
2min walk from JR Shimbashi Station (Ginza Exit)
1min walk from Ginza Line Shimbashi Station (Exit 5)

More Info